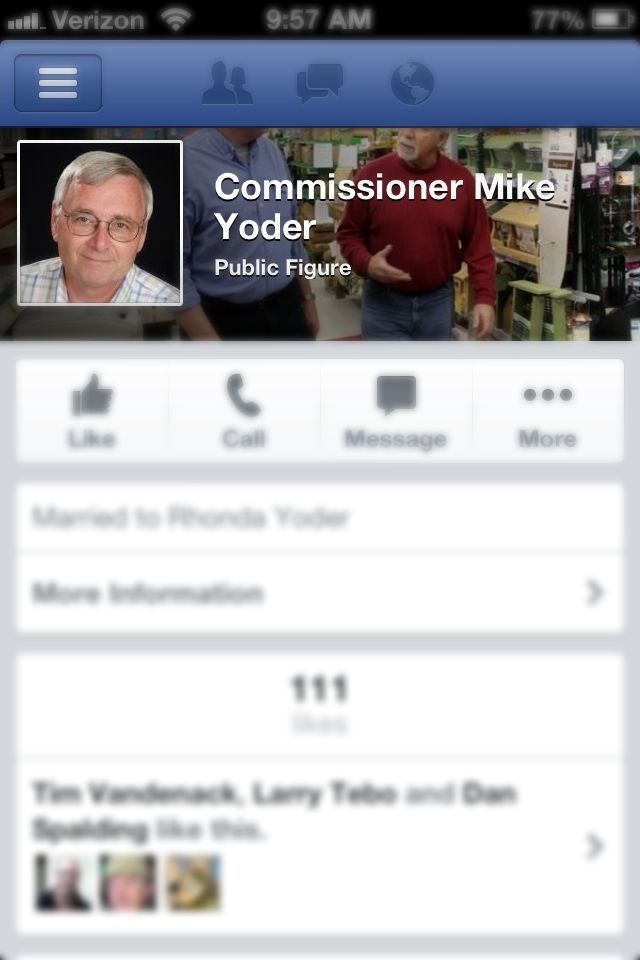 Do you 'like' Elkhart County?
A public relations class at Goshen College is teaching Elkhart County's government a lesson about social media. County commissioner Mike Yoder is working on a project with students to see how social media, like Facebook and Twitter, is used by local governments around the country. They'll also be making recommendations to Yoder on how Elkhart County can make better use of social media to communicate with the public.
"My limited research seemed to indicate the prevalence of government activities in this media are focused on pushing information out to people," Yoder said. "Can it be used to facilitate more interaction? If yes, then in what way?"
Yoder created his own Facebook page for the most recent election when he ran for (and won) his second term as county commissioner. Here's what he had to say about the page:
"Since then I have not done a lot to grow the number following the page. This is on purpose. It has grown organically, but I am still in a research mode testing what topics generate the most response (courthouse lights). I have tried a question a few times to test if people will respond. And will be doing more of that after the college class has given me more recommendations."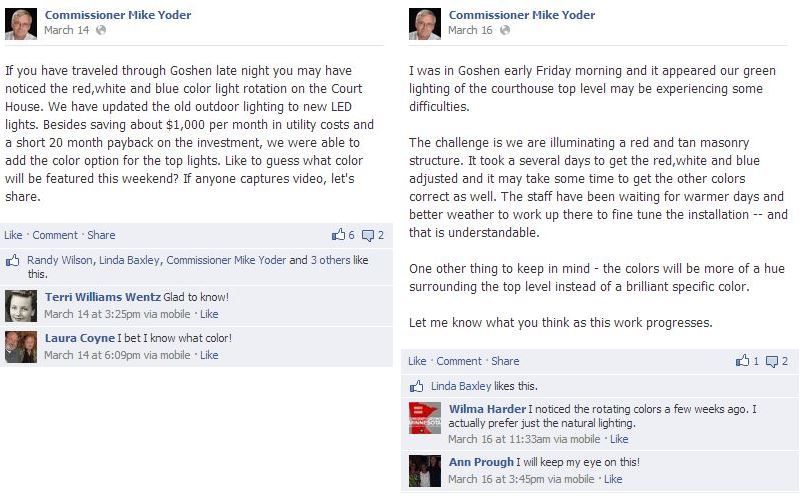 Yoder said the challenge is to figure out what sort of questions are appropriate for his Facebook page. And if responses start flooding in, what's the best way to collect all of the information, and how should the feedback be used?
"Lots of philosophical questions surface quickly," Yoder said.
Besides Yoder, the only other Elkhart County official that I've noticed has a strong following on Facebook is sheriff Brad Rogers. In addition to his personal Facebook profile, he has two public pages that he has created on the website with a total of 1,425 'likes' at last count, though there may be some overlap. Here are links to his two pages:
Here are the Elkhart County government-related Facebook pages I've stumbled upon:
And here's a look at the city and town Facebook pages I've come across:
Know of any others?
Reporter Tim Vandenack wrote a similar blog post back in February about local legislators who use social media to keep in touch with their constituents: Keeping up with Elkhart Co.'s politicos via Twitter, Facebook can be tough
And Marlys Weaver-Stoesz, the Truth's education reporter, tracked down how schools use Facebook and Twitter: Be a "friend" to your school
Email me at abarbazon@etruth.com. Follow me on Twitter and Facebook.
Share and Enjoy