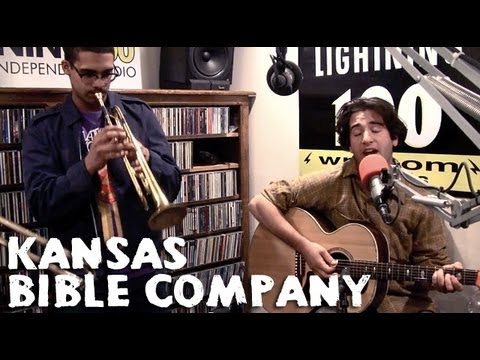 Kansas Bible Company, a group that got its start at Goshen College in 2008, has been getting a lot of attention lately. Here's what the band, affectionately known to fans as KBCo, had to say in its latest newsletter:
We're BACK with plenty of news to share! While Carl has been teaching 7th grade science in Goshen, Soc Ramsey and JJ Sleepeyes graduated from Goshen College. Yagu and Klink have been in Cambodia for study-service term, visited by Bones on his trip through Southeast Asia. Meanwhile back in Nashville: Jimmy, Slickrock and Snake have been playing shows with The Nashville Horns and the Black Diamond Experience while Boo Ruth slipped off for a month in Colombia. The boys are now finding their way back to Nashville and finalizing plans for the 2013 summer tour.
The band created an 8-bit video game (play here) in April to promote its newest song, "Jesus the Horse Thief." Steal a horse, dodge scorpions, jump over water, duck below a gang of ghosts and oh yeah, listen to some music. I'm not much of a video game player, so I didn't get very far

Read more about it:
The band also recorded a few tracks for Daytrotter in downtown Rock Island, Ill. with music from "Hotel Chicamauga" and "Surf Rock Trilogy" EP (listen here).
Email me at abarbazon@etruth.com. Follow me on Twitter and Facebook.
Share and Enjoy