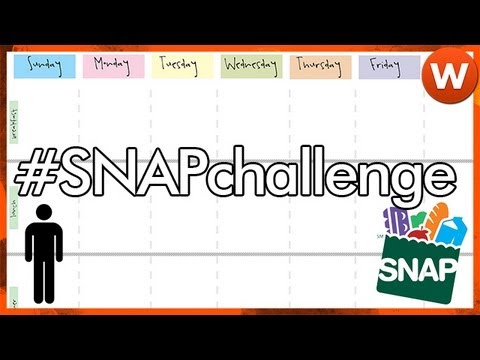 It has been almost two months since I participated in the SNAP Challenge, and since then, I've been asked a couple of times whether that experience has had an impact on how I shop for food. Yes, I look at prices a little closer and everything, but I'm also more conscious of the choices low-income families are forced to make. I can splurge on good coffee every once in a while or order takeout from my favorite Chinese restaurant if I don't feel up to cooking, but not everyone is so lucky.
I recently received a press release from Elkhart County's Purdue Extension Office about three local family nutrition program assistants. It has some helpful information, so feel free to pass this along:
The Family Nutrition Program (FNP) is a hands-on program that works with limited resource individuals and families to utilize their food dollars and food stamps appropriately and provide a safe meal environment. Through free, informal, and easily accessible educational programs in the home and community, participants can develop knowledge and skills related to:
nutrition and meal planning
food purchasing and preparation
food safety
resource management
Elkhart County has three 20-hours a week FNP assistants: Cynthia Herms (cherms@purdue.edu) who works with our Spanish-speaking adult clients and Michelle Joy (joym@purdue.edu) and Julie Miers (miersj@purdue.edu) who work with our English-speaking adult clients. Programs for limited income individuals or groups can be scheduled by contacting the Purdue Elkhart County Extension Office at 574-533-0554.
FNP assistants deliver foods and nutrition programs to participants in their homes and communities, helping individuals and families to select nutritious foods that fit within their budget. Through hands-on activities, participants learn how to:
invest food dollars into the best nutritious food choices
stretch food dollars to last the whole month
make healthy choices when eating out
protect their family from food-borne illnesses
plan meals that their family will love
The Family Nutrition Program works in collaboration with many community agencies and organizations such as the Supplemental Nutrition Assistance Program (SNAP); Women, Infants and Children (WIC); IMPACT; Head Start; food pantries; soup kitchens; and senior nutrition programs. A statewide initiative, the program is funded by Purdue University Elkhart County Extension Service in partnership with Indiana Family and Social Services and the United States Department of Agriculture.
Email me at abarbazon@etruth.com. Follow me on Twitter and Facebook.
Share and Enjoy