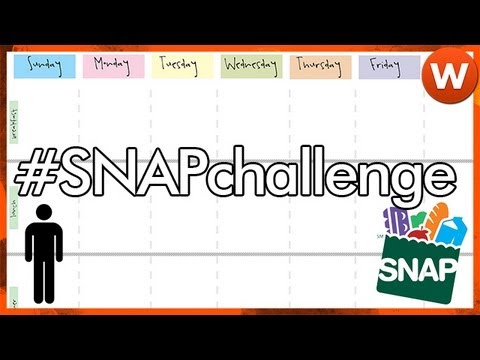 Ever since I decided to dive into the SNAP/Food Stamp Challenge, I've found myself paying a lot of attention to poverty in the news. In fact, there was an article in Wednesday's edition of The Elkhart Truth with some scary statistics from our own backyard:
Economics: 69.1 percent of black kids aged 17 or younger were in poverty in 2010, up from 28.9 percent in 2000. The unemployment rate for African Americans aged 16 or older totaled 24 percent in 2010, up from 13.9 percent in 2000.

The median household income in 2010 for blacks in Elkhart totaled $23,327 compared to the overall figure in the city of $33,217. That $23,327 figure for blacks is down from $28,368 in 2000.
More articles on poverty and hunger in America:
I'm not doing this challenge to prove that I can pull it off, living on a $30 weekly allowance for food. I don't need to do that. Unfortunately, it can be done and is done every day by more than 45 million Americans. And it's not just food that they have to worry about from day to day. It's keeping the heat on during the winter. It's paying rent on time. It's gasoline to get to work. It's unexpected expenses that pop up when their car breaks down or one of their children comes down with a fever. It's all those things that can't be paid for with SNAP benefits. And for many people, it's unending.
I will start the SNAP/Food Stamp Challenge on Sunday and write my next blog post about it on Monday. I'll fill you in with what I bought at the grocery store and some shopping tips I've found along the way.
Like I said in my first blog post about the challenge, leave me a comment or send me an email if you're going to participate. I would like to know about your experience.
Email me at abarbazon@etruth.com. Follow me on Twitter and Facebook.
Share and Enjoy