Slipping up at practice earns you good-natured ribbing from your teammates and coaches.
Slipping up at practice with a national television camera rolling earns you viral infamy.
With ESPN cameras roaming around practice on Wednesday, Aug. 14, Notre Dame head coach Brian Kelly, overseeing "the gauntlet" drill, sent running back Cam McDaniel through the sled was backwards. ESPN posted the video on YouTube, and it spread through the college football world like wildfire.
(Apologies in advance for the poor quality. ESPN's original upload – which had received over 127,000 views – has been removed for unknown reasons, and this is the only surviving clip I could find.)
In the original clip, Kelly prefaces the drill by assuring his running backs that the sled is not, in fact, backwards. McDaniel proves him wrong in the most hilarious of ways.
For those unfamiliar with how the gauntlet machine typically works, here's a clip of Irish running backs doing it the right way: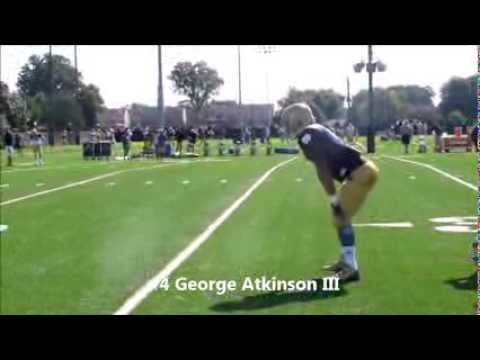 Teammate Louis Nix chided McDaniel on Twitter after the mishap aired:
@1IrishChocolate haha in TX we make our blasters accessible at both ends… Never had to think about it til now!

— Cam McDaniel (@cammcdaniel4) August 14, 2013
@1IrishChocolate it was better than running into you. I promise you that bud!

— Cam McDaniel (@cammcdaniel4) August 14, 2013
McDaniel took it all in stride. Once the video went viral, he responded on Twitter in the best way possible:
4 every1 who thinks the gauntlet drill was an "accident." Coach Kelly was just testing my impeccable ball security. Well, I passed the test.

— Cam McDaniel (@cammcdaniel4) August 15, 2013
While the original video has been taken down, this wonderful gif will always remain:
Share and Enjoy